Back in 2019, Jennifer Aniston caused quite the buzz when she revealed she'd been participating in 'goddess circles' for 3 decades, including at her recent 50th birthday getaway in Mexico. And who does she turn to for spiritual guidance? The woman she calls her 'forever sister from another mister' and #1 BFF, actress and renowned circle leader, Andrea Bendewald.
You may well recognize Dre (as she goes by) from the hit 90s show 'Suddenly Susan', or her current role in Apple TV's 'The Morning Show'. But these days the most important role her in life, and what she is known for the world over thanks to her new virtual circles, is as the founder and facilitator of The Art of Circling.
I interviewed Dre in 2019 for The Hollywood Reporter, for which Jennifer said this when explaining the power of circling: "Dre brings us all together, in one room, and makes us all feel as one. Honored and accepted. Seen and heard. Loved and adored. It's a space I always know I can go when I am in need of guidance. Of any kind. It's a safe space where I can cry, explore, question, doubt, express anything, and most of all, laugh." A ringing endorsement, indeed.
I got to experience one of Dre's circles in LA a few months later as part of an article for Marie Claire magazine. It was such a unique and bonding experience, despite the fact that all the other women were strangers to me, that I attended another circle at Dre's LA home, which is where she now bases her hugely popular virtual circles that she transitioned to when Covid hit. Here, Dre talks about her circling journey…
ksnflk
Circling is a spiritual practice/ritual where women gather in a circle, in what is deemed a safe and sacred space, led by a circle facilitator. As each woman passes around a 'talking stick' they get to share whatever challenges they are going through in a non-judgmental space. Circle guidelines, like only speaking when you're holding the stick and confidentiality, are important in helping women feel safe to share their most vulnerable thoughts. 'Empathy, compassion, and connection' result every time, explains Dre. Circles are also referred to as goddess circles and often occur around the time of a full moon. Many circles begin with a grounding prayer and meditation and have a particular theme, but this theme can change as the circle evolves and women share their stories.

soiadhfoiashd
How and why did you get into circling?
I was born and raised in New York City and went to the High School of the Performing Arts there (where I first met Jennifer Aniston), but I was really struggling as an actress. A couple of my friends had moved to LA and encouraged me to move out there. So I did! I was 25 and I landed in Laurel Canyon in Hollywood, where a couple of my friends, including Jen, were living.
One day, I was invited to a 'goddess circle'. I turned up in a leather jacket, a typical tough New Yorker. I was very closed off and the opposite of spiritual. I sat in this circle of around 25 women and I was really nervous because they were all beautiful and accomplished actors, writers, or producers. They were who I wanted to be. But here I was, a fish out of water, thinking 'Where am I? The sun is always shining, everyone's always happy. Aren't they supposed to be miserable suffering artists? Isn't it supposed to be hard? You all seem happy!'
We were all seated in a circle and then the talking stick came to me. I was trembling, but somehow I shared about how scared I was about upping to LA for my acting career and how I didn't know what I was doing. I cried; I was just honest. As I passed the talking stick to my left I looked around the circle and every woman was nodding at me – like, witnessing me. I didn't know what they were thinking but no one judged me or chimed in and told me not to feel that way. I felt relief but also 'What just happened?!'
I didn't even know I wanted to share that or that I was feeling that way. It just came through, out of me, and I was like, 'I want the talking stick again!' I want to share some more. But I didn't. I sat and listened, and then another phenomenal thing happened. All those women I had on a pedestal, who I thought were successful and better than me… Guess what? They shared their truth, which involved something similar – their struggles, their challenges. And all of a sudden, I felt connected to all of them. I realized it was really only me in my head that was keeping me separated from them. We're all women and we're all human beings.
Now, 26 years of circling later, my spiritual awareness is that we're all connected. I assume love when I walk into a room full of strangers, when I walk into a circle. It's such an easier way to walk through life rather than thinking 'I hope they like me,' or 'I don't know if I'm wearing the right shoes or earn enough money or I'm not enough'. In a circle, each and every time a connection is made that has a profound effect on my wellbeing.
You went on to a successful acting career including a starring role as Maddy Piper in Suddenly Susan, so how did you go from acting to circling being your career?
I was healing so much of my own unresolved trauma, issues and fears, and I found that circling was the most productive modality. The more I did it, the more I felt like 'I need to be sharing this with other women', and it grew and grew from there. I'm still healing as I'm leading these circles. And it's like this wonderful infinity loop of, the more I heal, the more it hopefully helps other women. And the more it helps them, the more it helps me, and it just goes on and on. I really understand the value and the power of the circle. The biggest journey I've been on through the years is the ego reduction – and I'm still on it.
What do you say to the skeptics?
People have me come to their house to lead a circle – a baby blessing, a big birthday, or house blessing. And usually the guest of honor will pull me aside and say, 'My aunt so-and-so is here from out of town and please know that she's really not into this thing'.
And I totally get it. I used to be this archetype – I was her! So I weave her in and speak directly to what she's thinking, to bring her in to the circle. And ten out of ten times, Aunt so-and-so is the one who will say the most profound thing in the circle, given permission and the arena of the circle. She's welcome to share in her way, her truth and her story. And when given that permission, whoa, the channel is open and out comes the wisdom every single time.
Any other interesting anecdotes?
A friend of mine was dating a man who had an ex-wife. Problems started to bubble up with the ex-wife and I suggested we all do a circle. I said, 'You both loved the same man. What makes you think you're so different from one another?' And they did it! They now have a blended family, they celebrate holidays and birthdays together, and they've incorporated all parts of everybody together because of circling. True story! The ex-wife stopped becoming the adversary.
In a circle, other people are just mirrors. Because it's not about all that other stuff that keeps you separated. My friend got to witness this ex-wife for who she was on the soul and heart level, not just the personality level. That's how circling can change your life.
You famously led Jennifer Aniston's 50th birthday goddess circle in Mexico back in 2019 with her other closest friends, including Courtney Cox. What can you tell us about it?
There is the sacredness of the circle, but we did a version of what I share here. We reflected back to one another, where we were, who we were, what we love about one another, and what we saw for one another. Through the art of circling, our close friendship circle keeps each other on our spiritual edge. We bring things to the circle and work them out.
asdfa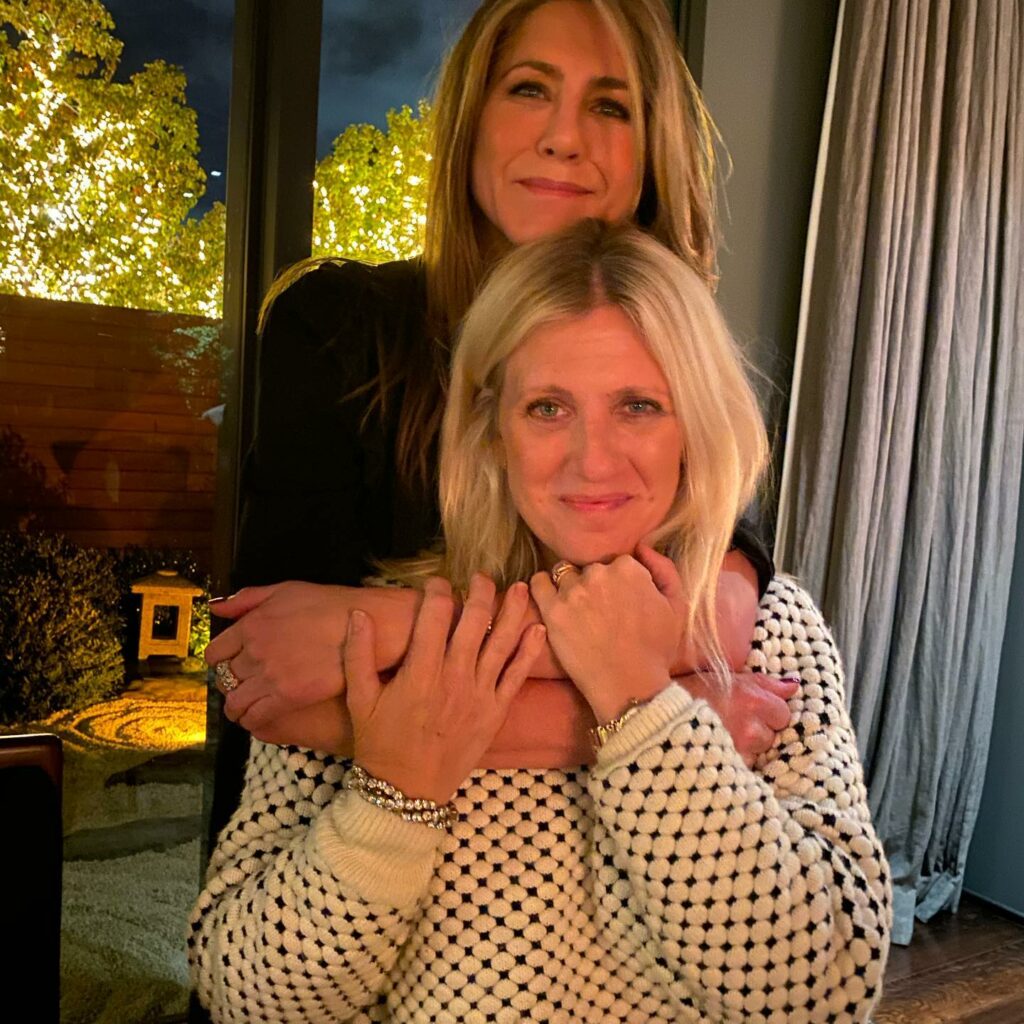 Jennifer calls you her 'Forever sister from another mister'. How has your friendship endured from New York to Hollywood for 37 plus years?
I would say we're committed to always changing, evolving, and learning together. There's safety and trust because we're family and we grew up together. We don't compare, we just practice being really present for one another with whatever we're going through.
Through the art of circling, we keep each other on our spiritual edge. We bring things to the circle and we work them out. We've both lived these very intersected but separate lives, and the reason we've been friends for so long is because we really practice non-judgment with one another, and that is one of the practices of circling. You get to know yourself and stop judging yourself. So not only are we soul sisters and best friends but we also don't judge one another.
Also, trust and honesty. She trusts me and I trust her. We have a circle of friends who trust one another, and the beauty of the longevity is that we've grown up together and we're still growing.
Did you have your own 50th birthday circle?
Yes, my closest girlfriends threw me one. They took over and I let go of the reigns! The facilitator wrote down 12 words that she thought of when she thought of me. Each woman drew a word out of the hat and spoke to me for a minute or two about how they saw me based on this word, like: gratitude, love, acceptance. I just sat and received these reflections; some of me now, some from the past, and some of how they saw me in the future. We laughed and cried, we had music, songs and poetry. A birthday circle is very humbling and powerful.
Click here to read why Dre says circling can be so beneficial for women in midlife.
Andrea Benewald is the founder of The Art of Circling. For more information and the latest virtual circle schedule, click here.
Main photo credit: Mitch Rouse