Continuing the series of well-known women sharing their menopausal experiences, Gabrielle Union reveals how perimenopause affected her mental health, and even lead to suicidal thoughts, while Gillian Anderson highlights the confusion that still surrounds some symptoms.
Gabrielle Union
Gabrielle shared the brave and harrowing description of how perimenopause affected her mental health during last year's In Goop Health virtual summit. The actress, now 49, revealed how her fluctuating hormones resulted in suicidal thoughts following an argument with her husband Dwayne Wade.
'I've had more depressive episodes, but never for long periods of time. Maybe a couple of weeks,' she recalled. 'I fell into something so dark in December that it scared me. I had a stupid argument with D, and instead of my usual problem-solving … immediately, my brain, that little inner voice said, 'He's never going to get it unless you're dead.'"
'Only because I've been in therapy for half my life that I was like 'No, I don't know who is talking now, it's not my intuition.'"
Luckily Gabrielle's suicidal ideation was 'fleeting' and 'talk therapy and diving into how I can regulate my hormones' helped her get through it.
Not surprisingly, her perimenopause symptoms, which started in her 30s, also affected her professional life. 'I thought I was losing my mind. I thought I had early onset dementia, Alzheimer's, she remembers. 'I gained 20 pounds overnight of water retention, inflammation – bizarre. I couldn't think. Now, when I have to public speak in the last few months, I'm so anxious, because I'm like, 'Am I going to remember words?'"
'Separating the symptoms from who you really are…to say that it's a challenge, I don't think I really have the words, or I lost them, to describe what these last few months have been.'
*If you have or anyone you know has experienced suicidal thoughts, call the National Suicide Prevention Lifeline at 1-800-273-TALK.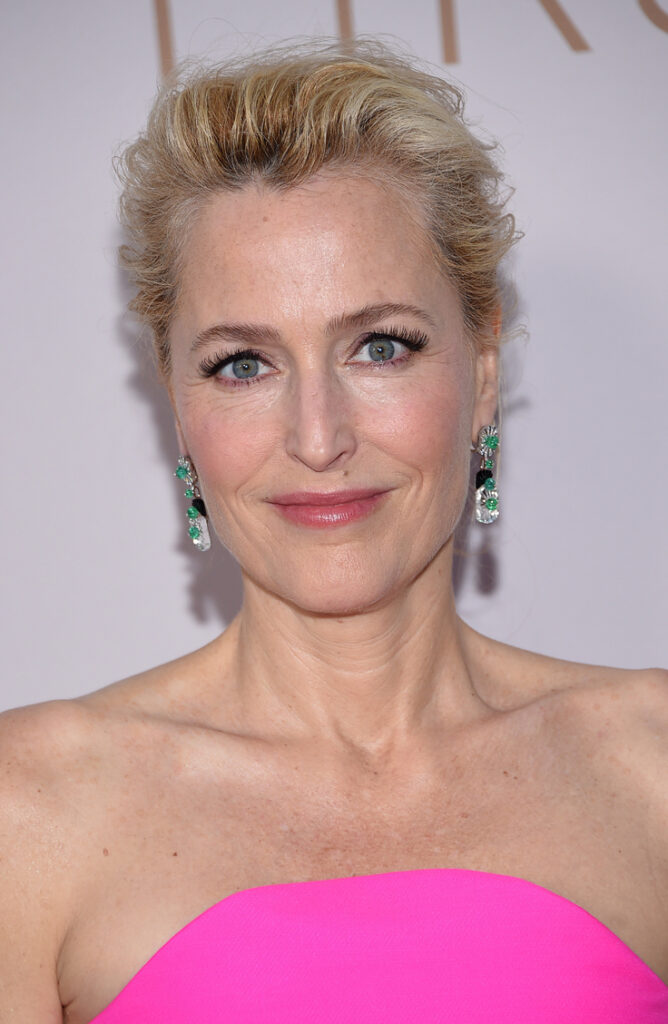 Gillian Anderson
The award-winning actress was in her late 20s/early 30s when a naturopath told her that her blood work showed she was experiencing early menopause symptoms. 'And I completely ignored her!' she recalls in lennyletter.com. 'I didn't know what it was'. Two decades passed before Gillian, now 54, realized those very symptoms were affecting her daily life.
'…The day hadn't even started, but there was something about my inability to handle anything that morning that alerted me to the fact that something was up. And as the day went on, I kept having to excuse myself from meetings and go into the bathroom to cry. It was at the point that I felt like my life was falling apart around me that I started to ask what could be going on internally, and friends suggested it might be hormonal.'
A menopause specialist confirmed her levels of estrogen, testosterone, and progesterone were 'incredibly low', she remembers. But a second opinion from a gynecologist only confused matters.
'They said that I was perfectly fine based on the blood tests and that I absolutely wasn't in perimenopause. One of the challenges we've found is that different doctors run different tests and look at different aspects of how the hormones present. …Finding answers shouldn't depend on having the means to consult numerous experts – it's something every woman has a right to have with an informed practitioner.'
Symptoms persisted and Gillian explains, 'I was used to being able to balance a lot of things, and all of a sudden I felt like I could handle nothing. I felt completely overwhelmed. When I talked to the menopause specialist, she said that she often gets phone calls from female CEOs screaming down the phone, "I need help now! I am losing my mind!"'
'Perimenopause and menopause should be treated as the rites of passage that they are. If not celebrated, then at least accepted and acknowledged and honored.'
Gillian is also the co-author of We: A Manifesto for Women Everywhere, described as a 'practical manual for creating change in women's lives, with nine universal principles that help you confront life's inevitable emotional and spiritual challenges'.
*Read Part 1 of 'Famous Women Talk Menopause' HERE*
*Read Part 2 of 'Famous Women Talk Menopause' HERE*