I joined my very first book club this year, and doing so is definitely going to be on my 'grateful for' list for 2022.
Being a journalist/writer, I'm a complete news junkie and with today's 24/7 news cycle I feel like I'm relentlessly checking news updates, and as a result, veering between highs and lows of what's going on around the world. Plus, almost everything I read is online and is forever being updated. I needed a break!
But truth be told, I hadn't read a novel for at least 5 years (maybe even 10…) when my friend told me about our neighborhood book club, and it was one of the main reasons I joined.
My first meeting was outdoors on a member's driveway with 8 women, only two of whom I knew. The book club started during Covid but it's continued the outdoor theme, which makes it extra cozy. All were seated on camping chairs huddled in huge blankets around two gas fires (February nights are even chilly in San Diego). A table was adorned with individual charcuterie and cheese cups, gourmet chocolates, grapes and wine (how perfect is that?!). There was even a beautiful tablecloth and vase of flowers. The host of each meeting provides everything, so you get to chillax when you're a guest.
The chosen book was Under The Magnolias and shockingly, I finished it just in time (yay!). There was plenty of book talk and analysis but the conversation then turned to everyone's own interesting related stories. It was so lovely to meet new women, all around midlife age, who lived so close by but who I'd never even seen before.
We even had one of the authors on Zoom during a later meeting (*see below), thanks to our host, who by day is a dentist and by night has a podcast interviewing authors.
There are only about 5 core members, including me now, which makes it intimate, easy and fun, and various other women join when they can.
My emotional health has been given a major injection boost thanks to both connecting with new and interesting friends in the warmth of our book club circle, and by immersing myself in the pages of fascinating stories of women who are taking life head on and overcoming various struggles in their own inspiring way.
Books, and particularly novels, are now my escape from the news – and I would never have realized how much I needed that escape if it wasn't for my book club. I now try my best to carve out quiet times alone to read, far away from technology, and even just the feel and smell of books makes me feel relaxed.
Throughout 2022, we've read some fantastic novels, which all coincidentally have strong female lead characters. I loved each for different reasons and wanted to share my favorite four, in case they appeal to you. Here goes: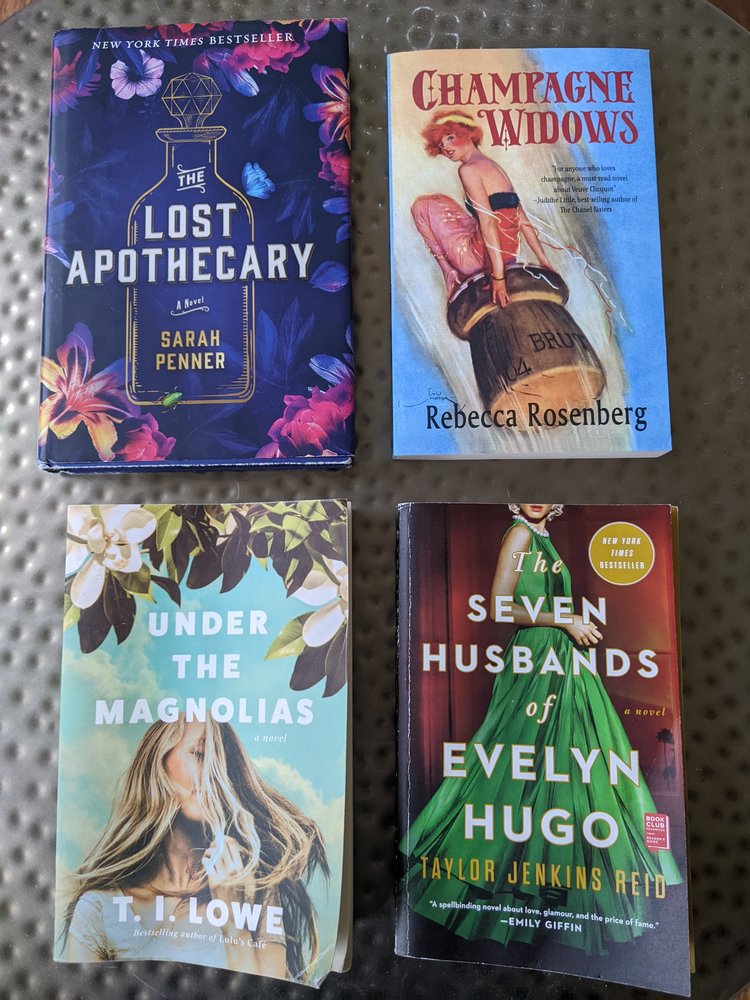 Under The Magnolias – T. I. Lowe
This latest book from best-selling author of Lulu's Cafe is the inspiring story of teenager Austin Foster, who grows up on a tobacco farm in South Carolina in the early 1980s. When she tragically loses her mother aged just 12, she herself has to become mom to her six younger siblings while her father runs the farm and battles his personal demons.
The book is a sad but touching portrayal of how mental health affects a whole family and it resonated with me as I have a close male relative who was bipolar and who has sadly passed now. Austin finds love in the town's rich kid but you're often left wondering if their story is too good to be true. Many colorful characters add to the mix and help chart what feels like Austin's journey of survival as she approaches adulthood.
The Lost Apothecary – Sarah Penner
Revenge cloaked in secrecy is the intriguing theme in this first-time novel from Sarah Penner. Set in both eighteenth century and modern-day London, the book flips back and forth between time and the dual stories, and features three powerful female lead characters.
Caroline, an American budding historian, arrives in modern-day London on a soul-searching mission after a marriage break up when she discovers a mysterious antique bottle while 'mudlarking' in the River Thames.
Meanwhile, the story of the mysterious apothecary, Nella, from 200 years earlier, begins to unfold and explain how and why she came to sell potions containing poison under the veil of secrecy to help women fatally punish men who had done them wrong.
Nella unwittingly takes on a gutsy apprentice in 12-year-old Eliza, whose own story of leaving her mother so young to help support her family gives a unique insight into how different life was back then. Each female lead character has their own motives and journeys but all are interlinked, leading to a satisfying conclusion. A powerful and addictive read.
The Seven Husbands of Evelyn Hugo – Taylor Jenkins Reid
I hosted the meeting for this and chose to decorate the food and drink table with these mini gold Oscars for fun, but I didn't chose the book. I read it the fastest out of all of the books featured here though and I couldn't put it down. I even used to usher my daughters away once I got reading!
Movie icon Evelyn Hugo handpicks unknown reporter Monique Grant to pen her life story, which sets in motion the gradual unraveling of her fascinating movie career and personal life, beginning in 1950s through to the 1980s. Her journey is fascinating as it meanders through the decades and depicts how changes in culture around the world have also shaped Hollywood's evolution.
A major twist in Evelyn's personal life is revealed surprisingly early on but it makes the rest of the story all the more intriguing. Seven husbands later, Evelyn finally reveals why she sought out Monique to tell her story with a twist you're unlikely to anticipate.
*I also recommend the author's other book, Daisy Jones & The Six, which I ordered straight after reading this. It's a completely different story and set among the music scene of the 1970s but it's also a fantastic read. It's currently being adapted into a TV series for Amazon, produced by Reese Witherspoon and starring Elvis Presley's granddaughter, Riley Keough.
Champagne Widows: First Woman of Champagne, Veuve Clicquot – Rebecca Rosenberg
I highly recommend this book, which charts the fascinating origins of the world famous Veuve Cliquot champagne and the heroine who kept it all going through six Napoleon wars in France, Barbe-Nicole.
Set in Champagne, France, in the early 1800s, Barbe-Nicole marries her childhood sweetheart, Francois Cliquot, but is widowed at a young age and becomes known as Veuve ('widow' in French) Cliquot.
Defying tradition and expectations of women at that time (i.e. not that much), Barbe-Nicole fights to save hers and Francois' vineyard through the following decades and bring the now famous champagne to the world. She even defies Napoleon himself.
Barbe-Nicole's fearless spirit and grit propel her story through multiple obstacles, but each and every time, she somehow triumphs. Themes of culture, romance, family and love mesh to make this an epic tale that had me hooked. I especially loved the fascinating titbits of life during the time of Napoleon sprinkled through the story.
*Our little book club was lucky enough to have the author on Zoom during our meeting where an amazing cheese board was served alongside champagne – a rare treat, indeed!
Thank you to Leslie, Estelle, Kim and Deb – and happy reading, everyone!
Are you in a book club? How has it enriched your life and what are some of your favorite book recommendations? I would love to hear your story in the Comments section below.